Lyneah Marks—The Stargate: A Way to Higher Consciousness
November 4, 2021
7:00 pm EDT -
9:30 pm EDT
Join us for a fascinating presentation on "The Stargate," a physical and etheric sacred geometry form designed to help people access higher levels of consciousness. Leading us will be Lyneah Marks, a former resident of the Triangle for 28 years currently residing in Mount Shasta, California.
---
Once you pay for your $12 ticket via PayPal or a credit card, Eventbrite will send you a private ticket code for the Zoom meeting. Be sure to use the Zoom link in the Eventbrite confirmation email.
---
Lyneah is a certified Stargate facilitator, soul integration therapist and owner of  Body, Soul & Angels, which has been in business since 1996. She has been a natural intuitive and spiritual healer since childhood and began offering conscious energetic healing after a near-death experience in 1976. Lyneah offers teleseminars on earth healing, chakra clearings, and energy work and facilitates weekly Stargate meditations for personal well being/ascension and to support humanity.
She will introduce various concepts including the Stargate collective field, explain how the Stargate can help us heal and raise our own consciousness, lead us in a Stargate meditative experience and answer any questions we may have.
"The Stargate is here to support you in your personal evolution," says Lyneah. "It can help you identify root causes of difficulties in your life and, through the vibrations of awareness and love, dissolve the causes that are blocking you. The Stargate can also assist you in sensing subtle energies, such as those of your guides, enabling you to better communicate with them."
Please Note: Lyneah will offer private two-hour online sessions with 20 percent of the proceeds benefiting SFF. Your investment will be $180 (a discount from the usual $200). Private sessions will be based on individual needs. Before your session, you will be asked to spend some time formulating your intention for the session. If you do not have anything specific, you can ask for what Divine Source has for you or for whatever is for your highest good. Each session will take place in the setting of the Stargate meditation and be directed by your intention. Sessions can assist with clearings of energies that no longer serve you, past life reviews/clearings, higher levels of understanding of circumstances and situations, energy healing, frequencies to support your process of ascension, and/or a nutritional consult. Please visit this page to sign up.  You may sign up for more than one session.
On November 4, expect to learn:
What the Stargate physical sacred geometry looks like
The history of the Stargate since the 1990's
Who originated the Stargate
Who leads Stargate meditations, intensives and trainings
What an etheric Stargate is and how to use it
Lyneah's story of coming to the Stargate
Where the Stargate home is
Plans for the 20-acre Stargate property
How you can access Stargate functions for personal growth
After explaining The Stargate, Lyneah and channeled guides (including Bionetta of the Galactic Council) will lead participants in a deep meditation with the etheric Stargate. The experience can help elevate your vibration to the angelic realm of the 12th dimension, and will evolve based on the people participating in the meditation.
More about Lyneah
Lyneah is passionate about health, healing and happiness and strives to help clients achieve all three. In addition to being a natural intuitive, she has taken many trainings and combines them to provide customized client sessions.
Lyneah has been given many healing techniques intuitively, and she teaches them in her classes. She has a BS in psychology and German and an MA in science education. She was a hospice volunteer for eight years. She is a certified food-healing health educator and a LMBT (licensed massage and bodywork therapist NC #647). She performs house clearings and ceremonies.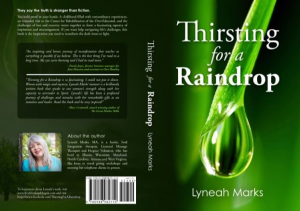 Lyneah is the author of Thirsting for Joy and Thirsting for a Raindrop, both available on Amazon. She also is an initiated stone keeper and used to be the owner of The Sacred Stone Center.
Contact Information
lyneahmarks@bodysoulandangels.com
www.bodysoulandangels.com
https://www.facebook.com/lyneahm
---
Our Mission
Our mission is to enhance the spiritual, mystical, and metaphysical awareness and consciousness of our community by sponsoring programs that facilitate personal growth and development and a holistic approach to health and living.
We are not affiliated with any religious organization.
---