Come Celebrate SFF's 45th Anniversary ~ Suzanne Giesemann ~ Moving from Theory to Experience, From Head to Heart
October 4, 2018
7:00 pm EDT -
9:30 pm EDT
$8.00 – $10.00
Moving from Theory to Experience, from Head to Heart
October 4, 2018, 7:00 pm – 9:30 pm. Tickets on sale at 6:30 pm.
Spiritual Frontiers Fellowship of North Carolina is proud to present a nationally recognized, out-of-town speaker for its 45th anniversary, being held in conjunction with the Academy for Spiritual and Consciousness Studies' Annual International Conference (ASCS). 
Suzanne Giesemann, a retired U.S. Navy Commander and commanding officer-turned spiritual teacher and evidential medium, is never lacking for evidence of our multi-dimensional nature.  Join SFF during this special celebration for Suzanne's inspiring discussion of the soul's path of awakening and the gifts that result from the natural evolution of raising one's consciousness.  Come learn how to develop your own psychic abilities and how to connect with loved ones who have passed, as well as with the greater reality.
Suzanne provides stunning evidence of life after death, and her gift of communication with those on the other side has been recognized as highly credible by noted afterlife researcher Dr. Gary Schwartz, Ph.D., and best-selling author Dr. Wayne Dyer. 
Her Unique Spiritual Story
Suzanne's spiritual journey began with the tragic death of her stepdaughter, Susan, a sergeant in the Marine Corps who was struck and killed by lightning along with her unborn son. When she first began researching and writing the Hay House published book, The Priest and the Medium, she never dreamed that she would one day connect with the unseen world herself. After years of meditation, she began to have intuitive experiences, which led her to several classes on mediumship and to an intensive course at the respected Arthur Findlay College of Psychic Sciences in Stansted, England. Her eye-opening experiences there allowed her to develop contact with the unseen world to the point where she is now in demand for her readings and her classes in evidence-based mediumship.
The author of 12 books and a radio show host with Unity Online Radio, Suzanne is a member of the Advisory Council of the Academy for Spiritual and Consciousness Studies. She gives presentations around the country, and her experiences with inspirational writing and inspired poetry are published daily on her blog www.SanayaSpeaks.com.
Whether in her blog, books, classes, workshops, or her one-on-one sessions, Suzanne brings messages of hope, healing and love that go straight to the heart. To learn more about Suzanne, visit  http://www.suzannegiesemann.com.
Angel Door Prize – FREE
An autographed copy of Suzanne Giesemann's book, Messages of Hope: The Metaphysical Memoir of a Most Unexpected Medium. (Value $16)
__________________________________
Raffle Prize Ticket – $5
Suzanne Giesemann's online medium development workshop, "Making the Connection." This eight-hour video class is designed to help you connect with loved ones who have passed (your own or others'), connect with guides, access guidance or insights from higher consciousness and raise your consciousness & vibration. (Value $125)
__________________________________
No early meditation this month
In October, we will celebrate our 45th anniversary with a special reception during our refreshment break. Therefore, we will not have our 6:30 p.m. meditation. Instead, we will begin selling tickets at 6:30 p.m., start the program early at 7 p.m. and allow extra time during the intermission for the reception. We will resume our regular schedule of early meditations in November.
__________________________________
Refreshments – FREE 
We serve light finger foods and water at intermission. To sponsor our refreshments in exchange for publicity for your practice or business, contact chairman@spiritual-frontiers.com.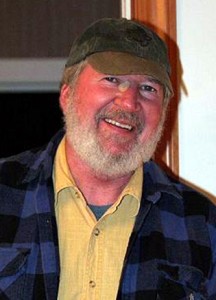 Artesian Spring Water from Tom Hildebrand Each month Tom Hildebrand  brings us delicious artesian spring water from his home near Siler City, close to the geographical center of North Carolina. This is wonderful water and you'll find details on how to purchase this water at HappyHillSpringWater.com.
---