January 5, 2023
7:00 pm EST – 9:00 pm EST
Ready to learn what 2023 has in store for you and the world? Be sure to join SFF for its highly popular, annual astrological forecast Thursday night, Jan 5. This year we are bringing in the highly talented and accomplished author and astrologer Carmen Turner-Schott to discuss the 2023 forecast and tell us how to adapt to the intense energies that will surely impact our lives and society as a whole. To register for this live Zoom lecture, featuring a Q&A with the speaker, please visit EventBrite, then check your email for your personal ticket from EventBrite. Offering Private Consults and Workshop, Too! Carmen will also offer the SFF community private consults for 30 min ($50) and 60 min ($100) as well as a two-hour workshop for $50 on Jan 27, 6 pm ET or 5 pm CST. For the individual consults, she will offer a mixed akashic record and astrology reading. Participants can send their birth information for her to prepare a chart, or they can send a chart that they already have. The January workshop is titled "Explore the Mysteries of the Eighth and Twelfth Astrological Houses." To  learn more about the consults and the workshop, and to sign up, click here.  "The new year will start off with the planet of communication, Mercury, being in retrograde in the sign Capricorn from  Dec 29 through Jan. 18.," says Carmen, a practicing licensed clinical social worker, astrologer, writer and teacher with national and international clientele, including the Edgar Cayce-based Association of Research & Enlightenment (A.R.E.). "We will discuss how this forecast will impact our lives and on how to prepare for its challenges." Carmen notes that Pluto, the planet of change, transformation and massive upheaval, will move into the sign Aquarius for the first time since the 18th century. She says, "Spending over a decade in each sign, the powerful energy that Pluto brings is transformative and at times painful. Pluto has been in the sign Capricorn since 2008 and moves into the technological, futuristic sign Aquarius on March 23 through June 2023, before it shifts back into Capricorn for a short time. Then, at the end of January 2024, Pluto will make its way back to Aquarius, where it will stay for 20 years!" Carmen will not only explain how these changes will impact us, but also provide insights on we can adapt and transform the intense energy. More about Carmen Carmen received her undergraduate degree in psychology from Fontbonne University in St. Louis, Missouri in 1997. She completed her master's of social work degree at Washington University in St. Louis in 1999. She is a published author and has written the following nine books all available on Amazon: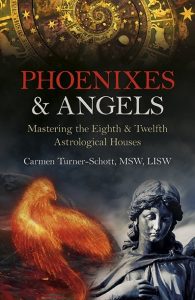 Sun Signs, Houses & Healing: Build Resilience & Transform Your Life Through Astrology
The Mysteries of the Twelfth Astrological House: Fallen Angels
The Mysteries of the Eighth Astrological House
Phoenix Rising, Moon Signs, Houses and Healing
Phoenixes & Angels: Mastering the Eighth & Twelfth Astrological House. 
A Practical Look at the Planets through the Houses
A Deeper Look at the Sun Signs
Astrology from a Christian Perspective
Astrology Awareness: A Compilation of Articles
Carmen began studying astrology at the age of 19 and has been providing consultations since then. In particular, she has been researching the eighth and twelfth astrological houses for the past 25 years because she is an eighth and twelfth house person herself and has personally experienced the energies and lessons of these two very spiritually transforming houses. Carmen began her astrological work at the age of 16 after an experience with a glowing ball of light in her doorway, which also prompted her to begin studying metaphysics and the Edgar Cayce material. She has presented astrology workshops for the Association of Research & Enlightenment (A.R.E.) throughout the years and teaches a variety of spiritual development classes. Carmen says she was born with intuitive abilities that she inherited from her maternal grandmother, and she uses these spiritual techniques to better serve her clients and those who reach out to her for assistance. She is an avid dream researcher and dream interpreter who uses dream incubation to help assist others on a deeper soul level. She is specially trained in parapsychology and research of psychic phenomenon through the University of Edinburgh, Scotland's specialized Parapsychology course. She is a certified Reiki master energy healer and teacher and an Akashic records international consultant. She has specific training in various healing modalities and specialized techniques to help with trauma recovery and psychological implications of trauma on the brain and impact of trauma on the emotions, physical body and mental processes. Remember to register today!
How to Connect with Carmen
Carmen Turner-Schott
Facebook
: 
 https://www.facebook.com/CarmenTurnerSchottWriter
https://www.facebook.com/www.deepsouldiversastrology
Twitter
: @astroawareness and @DeepSoulDivers
Instagram
: carmen_turner_schott_author deepsouldiversastrology
Our Mission
Our mission is to enhance the spiritual, mystical, and metaphysical awareness and consciousness of our community by sponsoring programs that facilitate personal growth and development and a holistic approach to health and living.
We are not affiliated with any religious organization.