2016 – The Year of Achievement! ~ Philip Young ~ January 7, 2016
January 7, 2016
7:15 pm EST -
9:30 pm EST
$8.00 – $10.00
2016 – The Year of Achievement!
Philip Young
January 7, 2016
This presentation will look at the year ahead through the lens of Western Astrology. Professional Spiritual Adviser, Astrologer, and Tarot Reader Philip Young, PhD will talk about the significance of the year 2016 in terms of energy transition as heralded by the movements of the outer bodies of the Solar System: Jupiter, Saturn, Chiron, Uranus, Neptune, and Pluto.
In the first part of the presentation he will offer a basic outline of how astrology functions, by explaining the roles of the signs, houses, energy points (Sun, Moon, planets, asteroids, and specially calculated points), and aspects (angled relationships between energy points) while discussing his particular approach to astrology using the whole sign system, a balanced number of masculine and feminine points, and a free will understanding of Western Astrology predictive technique.
In the second half of the presentation, Philip will talk about the event (mundane) chart of 2016 for the United States cast for 12:00 a.m. on 1/1/2016 using Washington, DC and relate it to the US Sibley chart, which is commonly used for the birth of the nation.
Demonstration of 3 Personal Chart Interpretations at this Presentation
Towards the end of the presentation Philip will demonstrate personal chart interpretations for three attendees who have already generously submitted their birth information to be shared with the group. He will use their charts to answer their questions and demonstrate his chart interpretation techniques that he uses with clients.
Come and learn about the power of astrology and its many uses, which include:
Finding lost items (horary astrology)
Determining best dates for events (such as wedding, starting a business)
Family dynamics and romance (relationship astrology)
Where is the best place to live for work/family/romance? (astrocartography)
Health issues and duration (medical astrology)
What is your life's purpose? (What did you sign up for and why?!)
Philip is a self-taught professional astrologer who started his full-time practice as a professional spiritual adviser in 2013. His focus is providing spiritual advising to people in need and his tools include not only astrology, but also tarot/oracle cards, pendulum work, bibliomancy, and applied kinesiology. He has a professional academic background and earned his Doctor of Philosophy (PhD) in English from the University of North Carolina at Greensboro and worked in the academic world (at UNC-Greensboro, UNC-Chapel Hill, and Wake Technical Community College) for over 15 years.
Philip retired in 2007 to become a stay-at-home father and spent five years perfecting his astrology craft. In 2013 he published his first book, Astrology Unlocked, which is a beginner text for very seriously interested students and a comprehensive desk reference for professionals.
He has been performing his services full-time since the middle of 2013 and continues to work with people from around the world, including but not limited to: France, Germany, Russia, Estonia, India, Canada, Argentina, Mexico, New Zealand, Australia, China, and England.
Philip will participate in the February 2016 Body, Mind, Spirit Expo (BMSE) in the Kerr Scott Building at the NC State Fairgrounds reading Tarot cards. For more information visit www.bmse.net/bmseweb/event/eventhome.php?eid=216.
To learn more about Philip and the services he offers visit his website at www.blackunykorn.com.
Click Here for Advance Purchase of Recordings for this Event
Angel Door Prize – FREE
Philip Young will donate a signed copy of his book, Astrology Unlocked. It is a value of $30.
Raffle Prize – $5
There will be two Raffle Prizes as follows:
Mariela Siwarqinti will donate a 90-minute Therapy Session that is a mixture of Pranic Healing and Archangelic Light. It is a value of $111.
Philip Young will donate a 15 to 30-minute Guided Intuitive Tarot Reading. It is a value of $60.

In this Tarot Reading, the recipient will draw 5 cards and Philip will draw 5 cards. The recipient's 5 cards deliver half the message from their energy field and guides and Philip's 5 cards deliver the other half of the message from his energy field and his guides.
Non-SFF Sponsored Private Sessions Offered by Philip
On the evening of his presentation, Philip will offer Private Sessions in Astrology and Tarot readings (sessions to be scheduled for a later date) as follows:
Astrology (Only one type of reading offered.)
1 hr. – First Time Astrology Reading Fee: $120
This fee is a combination of Philip's one hour of preparation time, and a one hour session with the client.
Tarot (Three different types of readings offered.)
15 – 30 min. – Basic Tarot Reading Fee: $30
You will draw all 10 cards and Philip will draw a single "gift" card. The primary energy used in this reading comes from your energy field and your guides.
15 – 30 min. – Guided Intuitive Reading Fee: $60
You will draw 5 cards and Philip will draw 5 cards. Your 5 cards deliver half the message from your energy field and guides and Philip's 5 cards deliver the other half of the message from his energy field and his guides.
45 – 60 min. – Mediumship Readings Fee: $90
These readings involve connecting with someone who, or an animal that, has passed over and allowing them to guide Philip to draw cards on their behalf to deliver a message to you.
Early meditation – free
Christopher Thurston will lead Anapanasati: Breath Body Being, a guided meditation. Anapanasati is from the Pali language and means "mindfulness of breathing" ("sati" means mindfulness; "anapana" refers to inhalation and exhalation.) This is a form of Buddhist meditation now common to Tibetan, Zen, Tiantai and Theravada Buddhism as well as Western-based mindfulness programs. Anapanasati means to feel the sensations caused by the movements of the breath in the body as is practiced in the context of mindfulness. According to tradition, Anapanasati was originally taught by Gautama Buddha.
Liberation arises from within yourself. Calming the mind by following the breath, you can become unfettered by the attachments that lead to dissatisfaction. With concentration on following the breath, you can experience impermanence, causes and conditions. This is the revolution of the heart that goes "against the stream." Meeting ignorance with wisdom, greed with generosity, and overcoming hatred with boundless love.
Christopher is a meditator, a Dharma punk and member of the Awake~NC Buddhist Meditation Society which is the full expression of Buddha's teachings of self-cultivation, community and interpersonal interactions. For more information visit www.awakenc.wordpress.com/about/
Speaking to religious groups, academic students, and community organizations, Christopher teaches meditation, Buddhism and ethics. He is certified by University of The West (Hsi Lai) in lay Dharma leadership, has a Ch'an training through Fo Guang Shan and regularly teaches Anapanasati (mindfulness of the breath meditation) at NC Buddhist Vihara (Sri Lankan).
Christopher gave a talk about meditation and music improvisation to the Buddhist Community at Duke's Weekly Group Meetings at Duke University. To listen to the talk click the link below:
Interested in the free, early meditation? Click the button below:
Refreshments – free
We serve light finger foods and water at intermission. To sponsor our refreshments in exchange for publicity for your practice or business, contact Info@Spiritual-Frontiers.com.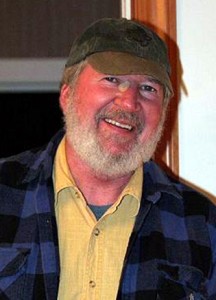 Artesian Spring Water from Tom Hildebrand
Each month Tom Hildebrand (who is also our official hugger) brings us delicious artesian spring water from his home near Siler City, close to the geographical center of North Carolina. This is wonderful water and you'll find details on how to purchase this water at HappyHillSpringWater.com.
---