Christopher Bledsoe – My Journey with Angels
October 1, 2020
7:30 pm EDT -
9:30 pm EDT
To support this event, please use the "Donate Button" in the right column. The suggested donation is $10 or more.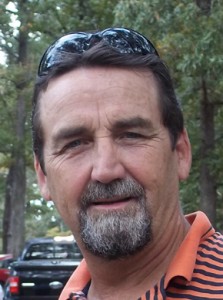 Christopher "Chris" Bledsoe Sr. of Hope Mills is returning to SFF after five years to present what some might call an "out-of-this-world" update on his experience with UFO sightings and encounters with celestial beings.
A retired builder, father of four and commercial pilot, Chris experienced a life-changing event Jan. 8, 2007 when he was "taken" by three UFOs that looked like "round orange liquid fire balls hovering above the trees." He, his son and three subcontractors who were with him were scared out of their wits, but while Chris was gone he was miraculously healed of a 17-year battle with Crohn's disease.
Ever since that day, Chris has had ongoing interactions with these beings. He has frequently seen "orbs" flying above his 15-acre property in Hope Mills near Fayetteville. He has asked them to appear and they have. He has photographed them, videotaped them, and shown them to his family and other investigators. He has witnessed other paranormal behavior dealing with ghosts and shadows and instantaneous healings. He has also worked privately with NASA, the CIA, the Pentagon, UFO experts, scientists, religious leaders and others to probe deeper. Even the White House has been briefed.
After the 2007 incident, Chris was featured in a Discovery Channel special called "UFOS over Earth: The Fayetteville Incident" by the Mutual UFO Network (MUFON), one of the oldest and largest civilian UFO-investigative organizations in the United States. He has also been the subject of various articles, radio interviews, podcasts, YouTube videos and a book by renowned UFO researchers such as Grant Cameron and talk hosts Richard Dolan and Jimmy Church.
Behind the Scenes
About eight years ago, Chris basically stopped speaking publicly about his experience. Instead, he focused on working on a TV series based on his life story with Hollywood producers Chad and Carey Hayes, who have written several movies, including "The Conjuring," and a religious scholar, Dr. Diane Pasulka, among others.
Also during these past eight years, Chris discovered that he could help the sick. Although modest and quiet about this ability, he has helped heal a Labrador retriever of a strange neck wound, an eight-year-old boy dying of a morbid genetic disease (the boy is now 17 and healthy), and a woman from Australia who had ovarian cancer.
"People send me clothing, some of their hair and a photo, and I take it outside and pray," he said. "The lights appear when I pray."
About Those Lights!
On Easter of 2019, Chris had another life-changing encounter with an orb of light. This time, he did not walk away frightened, thinking any sort of alien had taken him. This time, he knew a female angel had told him to start speaking again.
"She told me there is going to be an apocalypse, uprisings and some trouble," he said, referring to the year 2020 and beyond. "These angels want me to tell the truth of who they are to the world and that God is real. They said, 'If you tell the story, we will help you with video, witnesses and photos.'"
Since that Easter, Chris has been on a mission to spread their message of love and light to the world and to refute an impending counter message. He has conducted 10 interviews, including a talk for the 2020 UFO Con in San Francisco. He also prayed to these angels for his own healing from a severe case of rheumatoid arthritis that involved six years of chemotherapy.
"I asked to be healed, and I stopped all my medications cold turkey. I am walking faith. I quit $15,000 worth of drugs a month in March of this year, and I'm 100 percent better."
Chris says many of the angels are like "little four-year-old children who are glowing, like cupids or cherubs who are protecting and guiding humanity." He said there are larger ones, too.
The Importance of this Message
Via Zoom, Chris will talk to the SFF community about his journey with these "angels" over the past 13 years, and explain why he feels obligated to share their message. He will also talk about how his 2019 Easter experience predicts an apocalypse (or the revelation of secrets) and has itself garnered the attention of NASA, the CIA, high-level scientists and religious leaders, including the Pope himself.
"This is how big this is," he says, noting that he will use a PowerPoint to present photographs and short video clips of what he has witnessed and believes to be true.
Chris lives in Hope Mills with his wife Yvonne and their four adult children residing nearby. He enjoys building projects, gardening, being in service to others, using his healing gifts, and traveling with his wife.
Registration
To participate in this donation-based Zoom lecture, you must register. When you do, you will receive a private, secure Zoom link just for you. Register now!
---
Our Mission
Our mission is to enhance the spiritual, mystical, and metaphysical awareness and consciousness of our community by sponsoring programs that facilitate personal growth and development and a holistic approach to health and living.
We are not affiliated with any religious organization.
---