Runes and Astrological Perspectives for 2015 ~ Kelley Harrell and Lynn Hayes ~ January 8, 2015
January 8, 2015
7:15 pm EST -
9:30 pm EST
Runes and Astrological Perspectives for 2015
 Kelley Harrell          Lynn Hayes 
January 8, 2015
6:30 PM – Early Meditation (free)
6:45 PM – Tickets go on sale
7:15 PM – Meeting Begins
Please note that our January talk will be on the Second Thursday of the month since the first Thursday is New Year's Day. For our January presentation we will have two perspectives. First, Kelly Harrell will talk about what the Runes say about the coming year. After the break we will have an Astrological Forecast for 2015 from Lynn Hayes.
It's hard to believe that 2015 is already upon us, and yet here it is, along with our most popular annual program of two professional readers of the signs, teamed up to bring us their predictions for opportunities in the twelve months ahead. Make the most of your New Year and join us for this valuable presentation!
Kelley Harrell, expert shaman and bestselling author, will present the Year 2015 in the ancient language of Runes. Literally meaning something secret or whispered, Runes are storytelling symbols that were used by Germanic tribes two thousand years ago, before the introduction of Latin characters. Kelley works with a runic alphabet known as the Elder Futhark, which provides unique oracle insights because it encodes time as well as space. Each of the 24 runes is associated with a half month period, so casting these symbols will speak clearly to the year ahead. By reading a combination of runes for the year plus a rune for each quarter (Sabbat), Kelley will guide us to see the seasonal opportunities and challenges in store for us as well as the general tone of life force available throughout 2015.
Kelley has worked with the Runes as a source of meditation, personal empowerment, and spiritual guidance since 1991. A lifelong intuitive and modern shaman now living in Fuquay-Varina, North Carolina, Kelley has worked with a local and international client base since 2000. She holds a Masters in Religious Studies, is a Reiki Master and ordained interfaith minister. Learn more about Kelley and her services at www.SoulIntentArts.com
Lynn Hayes will present the second half of the evening's program from the astrological perspective. The movement of the planets has fascinated human beings for millennia. Over the past few years we have seen several powerful and significant planetary cycles that have created intensive change for many, and these cycles are in the waning phase. What do the planets have in store for us in 2015? Lynn Hayes will discuss the challenges and supportive cycles of the coming year and propose ways in which we can best take advantage of the energies that await us.
Lynn has been a practicing astrological consultant for over 30 years with an international clientele. She focuses on therapeutic and healing approaches which encourage greater empowerment and personal growth. Her work has been published internationally and she is currently the astrological writer for Patheos, the largest spirituality website in the world. Learn more about Lynn and her work at www.astrodynamics.net
Angel door prize – free
Kelley Harrell, our expert in Runes casting, is donating a signed copy of her latest book, "Teen Spirit Guide to Modern Shamanism: A Beginner's Map Charting an Ancient Path"- a value of $18.
Raffle Prize – $5
Angela Coulter, our leader for the Early Meditation, is donating a 1.5 hour "Energy Healing Session" – a value of $111.
Early meditation – free, 6:30 – 7:00
 Angela Coulter will lead the Early Meditation for a fresh start and expansion as we soar forward in 2015. She will guide you to access the supportive energy you need to release anything that is holding you back, followed by a full Light Body cleanse. The meditation will conclude with a total synching up to the energies of the New Earth Light Grid, to help optimize our individual and collective experience so we can flow through the doorway into the most exciting year yet!
Angela (www.SpiritualAlchemy.net) provides ascension mentorship, spiritual alchemy, and healing facilitation and instruction. Her focus is helping others take the reins and the fast track to clear their path ahead through teaching them how to tap fully into their own Divinity, ultimately helping to change the viewpoint of their experience from one of separation and disempowerment to that of Oneness and full self-empowerment.
She is the originator of Trinity Energy Progression™, a "next level" practice and healing modality of consciously existing directly in the full Divine Consciousness, and releasing all limitations of "the illusion." She was gifted with remembrance of this practice in 2011, with the understanding that she was to teach others around the world, to help them advance their spiritual/healing progression, Awakened remembrance, and psychic/intuitive abilities in leaps and bounds. Beyond Trinity Energy Progression, she is also well practiced in a range of different energetic healing modalities, including Reiki, ThetaHealing, Archangelic Light of the Divine Feminine, and crystal healing. See www.TrinityEnergyProgression.com
Kelley Harrell's Non-SFF Sponsored Upcoming Event
Beginning January 1, 2015, Kelley will offer The Spirited Path, a two-year intensive in modern shamanism. There are only 8 seats available for this initiatory program. Registration deadline is December 20, 2014. For more information go to:  www.SoulIntentArts.com/spirited-path-two-year-intensive-modern-shamanism
Refreshments – free
We serve light finger foods and water at intermission. To sponsor our refreshments in exchange for publicity for your practice or business, contact Info@Spiritual-Frontiers.com.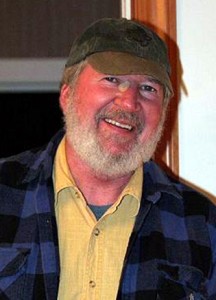 Artesian Spring Water from Tom Hildebrand
Each month Tom Hildebrand (who is also our official hugger) brings us delicious artesian spring water from his home near Siler City, close to the geographical center of North Carolina. This is wonderful water and you'll find details on how to purchase this water at HappyHillSpringWater.com.
---