The Fayetteville Incident ~ Chris Bledsoe ~ February 5, 2015
February 5, 2015
7:15 pm EST -
9:30 pm EST
The Fayetteville Incident
Chris Bledsoe
February 5, 2015
Join us for an unusual presentation about UFO sightings, alien encounters, and the reported abduction that occurred in Fayetteville, NC, on January 8, 2007.
Christopher Bledsoe, Sr., a builder who was well liked and respected in his community as well as the father of four children, is the main witness to this extraordinary event that was subsequently  featured on the Discovery Channel. The incident began when three men who worked for Mr. Bledsoe as framing subcontractors had just finished a large beach house. They invited Chris and his son, Chris Jr., to go fishing with them. Together they drove to the fishing spot in Bledsoe's four wheel drive pickup truck that could maneuver the muddy banks of the Cape Fear River.
While the others were fishing, Bledsoe walked around the woods to look for wildlife. Missing for hours, he sighted three UFOs that he was able to point out to his worried companions when he finally returned to the fishing spot. Frightened, they dropped their fishing gear and ran from the river, only to see the objects again as they hurried away. But Bledsoe's encounter continued even after he arrived home. Hearing his dogs barking strangely, he went into his backyard woods and met an alien being. In the weeks that followed, Bledsoe struggled to recover memories of lost time and a complete abduction experience.
Chris reported the incident to the Mutual UFO Network (MUFON), one of the oldest and largest civilian UFO-investigative organizations in the United States. MUFON tracks the estimated 10,000 reported UFO sightings each year, but only investigates those they consider most credible. After an initial interview by field investigators, the International Director of MUFON decided to speak to Chris personally. In October 2008, MUFON presented a special that was carried by the Discovery Channel in the mini-series entitled "UFOs over Earth."
Chris will describe to us this amazing encounter that ultimately lasted over four hours. He will further explain how the incident has changed him and his view of the world. In the eight years since his first meeting, Chris has experienced an ongoing relationship with the aliens. As he says, "The beings have taught me much." A book is in progress which has an option for a major motion picture.
Chris is a commercial pilot who from 1986 to 2005 owned an award winning construction business in Fayetteville, NC. He was nominated as Business Man of the Year in 2003. He is also a rescue scuba diver , and prior to his encounter was a noted hunter on record as having killed one of the largest bears ever reported in North Carolina. But since his experience he has given up the sport of hunting.
Angel door prize – free

The Angel door prize will be the 2009 UFOs Over Earth DVD by the Discovery Channel. It includes Chris Bledsoe's The Fayetteville Incident and two other sightings, Mass Sightings in Mexico and The Bucks County Flap. A "flap" is defined as a series of sightings by multiple witnesses over numerous days. And they're rare. These sightings were investigated by the Mutual UFO Network (MUFON) – a value of $20.
Raffle Prize – $5
Enter to win a one-hour reading with Donnie Ball. This session may include intuitive guidance, life coaching, or mediumship. This prize is valued at $111.
Early meditation – free
As far back as she can remember, Donnie Ball has felt a little different. She saw things, heard things, and knew things she could not always explain. She has lived many lives during this lifetime. She is a disabled veteran, a student, a mother, a wife, a seer, and currently one of the meditation coordinators for SFF.
Everyone is invited to experience a "Trip of a Lifetime" for February's meditation. Donnie Ball will briefly lead the group as we journey to a place in our past. Here, we will have an unique opportunity to display compassion, unconditional love, maturity, friendship and forgiveness to our past-self. Using the key insights we gained from our past, Donnie will gently guide the group back to the present so we may learn to open the door and practice communicating with our kinder, wiser, and more evolved self from the future.
Donnie Ball offers private intuitive and mediumship readings and is planning her next set of classes which teach a variety of psychic and mediumship skills. To contact Donnie, please email her at
DonnieDeLight@gmail.com
or find her on Facebook at
www.facebook.com/IamDonnieDeLight
.
Refreshments – free
We serve light finger foods and water at intermission. To sponsor our refreshments in exchange for publicity for your practice or business, contact Info@Spiritual-Frontiers.com.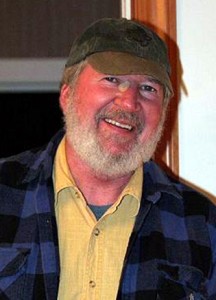 Artesian Spring Water from Tom Hildebrand
Each month Tom Hildebrand (who is also our official hugger) brings us delicious artesian spring water from his home near Siler City, close to the geographical center of North Carolina. This is wonderful water and you'll find details on how to purchase this water at HappyHillSpringWater.com.
---