Jon Seskevich ~ Inspired by Ram Dass: Alternative Medicine in the Hospital
November 1, 2018
7:15 pm EDT -
9:00 pm EDT
$8 – $10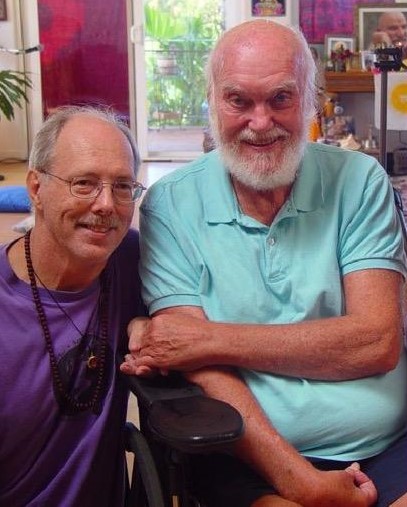 November 1, 2018
In her recent New York bestseller, "The Bright Hour: A Memoir of Living and Dying," Nina Riggs recognized our next speaker, Jon Seskevich, for the breathing and meditation techniques he taught her while she battled an aggressive form of breast cancer at Duke Cancer Center. In praising Jon, the now deceased young mother of two from Greensboro said, "… time stretches and bends as he guides us with his voice into an impeccably quiet place."
At the time, Jon was a stress management nurse clinician for the Center for Advanced Practice at Duke Health. He had already become well known for bringing innovative mind/body/spirit approaches and healing touch to this premier medical facility. He was inspired to do so early on by his longtime mentor and friend, Ram Dass, (Richard Alpert, Ph.D.) a legendary spiritual teacher, author and former academic and clinical psychologist.
Jon used a technique with Riggs called, "listening without taking on the pain." Then he was able to offer Riggs a way to relax her body, soften her breath and calm her mind. 
 "Through this teaching, she had a transcendent experience," said Jon, who completed a 31-year nursing career at Duke this past June. "Although not known to me at the time, she was writing a book about her last two years of life, and she used her revelation as the title of her book." With the help of "Nurse Jon" Riggs experienced that time as a "meditation on the joy of living."
This story is just one example of how Jon has used alternative and spiritual healing techniques as an effective adjunct to modern medicine. During his SFF talk, Jon will not only share stories of his life's work but also encourage the audience to use similar techniques to develop a healthy state of mind and to reduce physical and mental stress.
Jon will guide the audience to explore and practice the following:
Listening to others with an open heart without taking on the pain

Compassion and having the courage to touch pain with love

A relaxation technique that develops calmness, clarity and release of mental burdens

The challenge of practicing loving kindness towards ourselves

How to cope with health problems and hospital experiences 

Non-pharmacologic approaches for chronic pain/ illness management

Insights into life and living and death and dying
More About Jon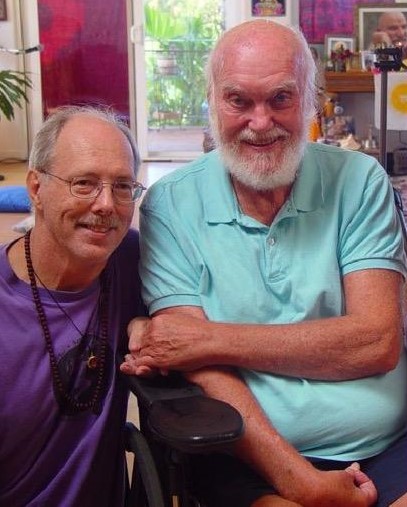 Jon's spiritual path began with his reading of Dass' seminal 1971 book "Be Here Now" at age 19 and blossomed through subsequent interactions with the author and teachers he recommended.
From 1990 until his recent retirement, this trailblazer in integrative healing provided a no-charge meditation, stress management education and healing touch consultation service for more than 40,000 hospitalized patients and families dealing with complex and challenging health conditions throughout Duke's 1,000-bed medical center. Jon also served as a healing resource for hospital staff in dealing with the challenges inherent in the always-changing health care world.
About Jon, Ram Dass has said, "His recognition of the need for both a spiritual dimension in healing work and grounded, responsible social action in spiritual work have defined his career in nursing. To that career he has brought a creative energy for integrating mind-body healing, meditative practices with stress reduction, healing touch with traditional nursing practices and a spiritual perspective for patients facing traumatic illness." 
An award-winning nurse, Jon is a graduate of the University of North Carolina School of Nursing and has a BA in Religion from Goddard College. He has authored papers, presented hundreds of talks, recorded five CDs, and has participated in and published research on stress management techniques. Jon is also an accomplished singer and musician, as well as a workshop and concert organizer.
Contact Information:
Email: ram1008@hotmail.com
Jon's stress management website, promoting greater quality of life and improved physical functioning.  
Programs, chanting, CDs, books and more.
 A cool east-west musical fusion album, combining sacred phrases and old-time NC fiddle and banjo tunes. 
Angel Door Prizes – FREE
Three CDS from Jon Seskevich (Value $12 each):
Building Resiliency: Jon's audio presentation on healing mind/body/spirit.
Guided Relaxation with Hammered Dulcimer: Helen Wolfson on hammered  dulcimer and Jon's soothing voice inviting a guided muscle relaxation. 
Bluegrass Kirtan: Featuring AC Bushnell with sacred phrases of many spiritual traditions and kicking old-time, bluegrass tunes.
Raffle Prizes – $5
Two fitness-training sessions by John Foster of Training Studio, Chapel Hill (Value $120).

A 60-75 minute session by Jon Seskevich, which he calls "Mind-Body Approaches and the Vital Quartet of Healing." ( Value $80).
Early Meditation – FREE
John Foster
"A Japanese Meditation for Energy and Posture"
John will help you raise your energy and enhance your posture through "mokuso," a meditation technique practiced in Japanese martial arts. The technique will include three forms of meditation used in the martial arts—a sitting form, a standing form and a walking form. All three are easy to do and offer a multitude of benefits in health, self-discovery and self-improvement. John is a martial arts instructor in Japanese Karate, a practitioner of Japanese Archery and Kendo (Japanese sword). He is also a personal trainer and corrective exercise specialist with a private studio in Chapel Hill, NC.
Contact:
919.619.4351
Refreshments – FREE 
We serve light finger foods and water at intermission. To sponsor our refreshments in exchange for publicity for your practice or business, contact chairman@spiritual-frontiers.com.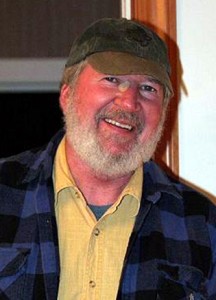 Artesian Spring Water from Tom Hildebrand Each month Tom Hildebrand  brings us delicious artesian spring water from his home near Siler City, close to the geographical center of North Carolina. This is wonderful water and you'll find details on how to purchase this water at HappyHillSpringWater.com.
---