Philip Young, PhD – 2020: The Year in Astrology: Evolution and Revolution
January 2, 2020
7:15 pm EST -
9:30 pm EST
$10
Philip Young, a professional spiritual adviser, author and popular astrologer from Cary, will offer his exceptional astrological insight to help the audience navigate 2020 with a better understanding of "what is written in the sky" for us to read and interpret in this incarnation.
His presentation will be divided into two segments. The first segment will address planetary transits as they currently apply to the United States birth chart and globally. This segment will examine planetary transits, what the planets rule and represent, and which signs those planets are moving through to express their energy.
"Much of the energy in play at this time," Philip says, "is designed to bring upheaval to long-standing systems in order for the global community and society to think and rethink what it means to have civilization. Really, it's that fundamental, and we will certainly feel it that way."
Philip says his presentation will address the astrological issues underlying anxiety that many of us may already be feeling. He notes, "This anxiety is shared along the global consciousness through non-astrological knowledge, including changing attitudes about globalism and nationalism; issues of governmental debt; and the balkanization of individuals into narrow, self-reinforcing groups through social media."
Send Your Birth Information to Philip Now!
The second segment will present a reading of individual birth charts from audience volunteers who have provided Philip with birth information ahead of the event. Attendees are invited to submit their birth information: birth date, birth location, and birth time. He will use the first five submissions as examples in the second half of the presentation.
If you are interested in having Philip read your chart, please send your birth information to him via the contact form on his website and indicate that you wish to have him use your information in the presentation. https://www.blackunykorn.com/contact/
More About Philip
Philip Young, PhD is a professional spiritual adviser and Priest of the Order of Melchizedek who uses the gift of guided intuition and tools of astrology, tarot/oracle cards, the I-ching, numerology, bibliomancy and applied kinesiology (muscle testing) to help people along their life journey.
The owner of Black Unicorn Enterprises, LLC, Philip maintains that our spiritual and purposeful well-being matter— in our relationships, career, and personal self-development. In our current age, he says, "we can easily get lost in the chaos and demands of our daily lives and the tempests of the world around us. Sometimes we feel stagnant and know we need to find a way to get 'unstuck.' Whether you are in a crisis, feeling lost, or need to make a conscious change out of old, frustrating patterns, a spiritual adviser can help."
Using his numerous tools, Philip helps clients navigate difficult situations, significant life changes, deeper inner self-exploration, and their relationships with others (romantic, familial, work, and friendships) and the world around them.
Products and Services For Sale
Philip will sell the following products and services at the lecture, with 20 percent of the proceeds benefiting SFF:
His book, "Astrology Unlocked" ($30)
His book and card deck, "Tarot of the Human Experience" ($30)
A 30-minute, 10-card tarot reading by Philip ($50)
A one-hour astrology reading by Philip ($150)
Contact Information:
blackunykorn@gmail.com
919.971.6818
https://www.blackunykorn.com/
https://www.facebook.com/blackunykornastrology/
---
Angel Door Prize – FREE
A personal, 10-card tarot card reading by Philip Young (Value $50)
Raffle Prize – $5 each
A one-hour astrology session with Philip Young (Value $150)
---
FREE Early Meditation
6:30–7 pm
"Lightworkers' Healing Meditation"  
by Moon (Marcia McCollum Hebrank, MSW)
Arrive Early – There is no admittance after 6:30 pm once the meditation begins.
Location –  The Early Meditation will be held on the first floor in the Fellowship Hall where the refreshments are served during the break. Once you enter the front door, there will be signs to direct you.
In this guided meditation, Moon (Marcia McCollum Hebrank, MSW) will enlist the assistance of the angelic realm to bring the healing, guidance, compassion and support of the angels to each participant for their highest and best good. She will lead the group in opening to the sacred well of healing, love, light and peace that comes from the heart of the Divine, inviting the angels and archangels to nourish and nurture their minds, bodies and spirits.
"As Lightworkers, it is important for us to be as energetically clear and empowered as we possibly can be," says Moon, an angelic teacher who trains healers and intuitives in North Carolina with her husband Jack. "Many of us are opening more fully into our role as Lightworkers during this time of great transformation in our world. We're called upon every day to be of service to others, giving tirelessly from our loving, open hearts, yet sometimes finding it hard to make time to receive in equal measure."
Moon received a B.A. in Psychology and an MSW with mental health specialization from the University of North Carolina at Chapel Hill. She worked for over 20 years as a clinical social worker, focusing in mental health, addictions, child and family services, and Hospice. Moon now devotes her time, energy, and enthusiasm to the work of her heart—working with the angelic realm to bring guidance, healing and angelic teachings to others.
Moon's work as a master healer, Angel Therapist®, spiritual counselor, shamanic healer, teacher, and intuitive is grounded in a deep respect and love for Mother Earth, coupled with a powerful faith and connection with spirit. Clairvoyant and claircognizant since childhood, she is spiritually guided and believes in the inherent divinity that exists within all living beings.
Moon and her husband Jack trained with Doreen Virtue, Ph.D. in Maui, Hawaii. They are Certified Angel Intuitives® and Certified Angel Card Readers™. They studied as angel teachers with Doreen Virtue's son Charles in Sedona, AZ, and are certified spiritual teachers and certified master angel practitioners. Marcia is also a certified Angel Therapy Practitioner®. For more information, visit http://www.OneLightCenter.com
---
Artesian Spring Water from Tom Hildebrand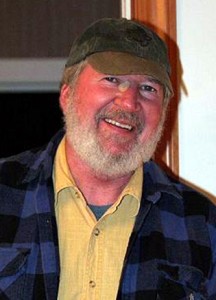 Each month we serve delicious artesian spring water from Tom Hildebrand, which comes from his home near Siler City, close to the geographical center of North Carolina. This is wonderful water, and you can find details on how to purchase this water at HappyHillSpringWater.com.
---