Vincent Genna, MSW– Meet the Amazing Technicolor Joseph from Canaan!
December 5, 2019
7:15 pm EST -
9:30 pm EST
$10
Many years ago, when first starting what he hoped would be a great career as a film and stage actor, Vincent Genna was recruited by an ascended master to work with him to bring sacred messages to groups and individuals. Vincent believes it is very synchronistic for a musical theatre performer to be called to service by Joseph from Canaan, a being known as a beloved musical theatre character from the musical Joseph and the Amazing Technicolor Dreamcoat.
Vincent, recognized throughout the country as the "tell-it-like-it-is" and "truly authentic" spiritual teacher and psychic therapist, will explain the personal process by which he grew into the divinely scripted role he agreed to play on this planet. Moreover, he will share intimate details about his relationship with his beloved guide and higher essence, Joseph from Canaan. Then, speaking through Vincent, Joseph will offer profound insight and messages for the audience, as well as necessary guidance to prepare for 2020, a year when the conditions on earth will offer opportunities for major belief shifts. After the refreshment intermission, Joseph will answer specific questions from audience members.
More About Vincent
For the past 36 years, Vincent has been privately trance channeling Ascendant Master Joseph from Canaan for personal growth and spiritual evolvement. In 2017, as requested by Joseph, Vincent introduced Joseph to the public sector with an overwhelming response. Joseph's advanced spiritual guidance can provide the missing answers necessary for the final reconnection and link to one's soul and spirit.
As a psychic therapist, Vincent combines his extraordinary psychic abilities, academic credentials, and genuine all-loving approach to provide healing for body, mind and spirit. He uses his more than 36 years of training, research, and experience in the metaphysical, psychology, and spiritual fields to dive deep into a person's psyche to release blockages, resistances, and self-sabotaging beliefs and behaviors so that the individual can fulfill the life of his or her dreams.
Thousands of followers around the world have been inspired by Vincent's warm and genuine keynote presentations on self-love and self-mastery for notable organizations such as Edgar Cayce's Association for Research and Enlightenment, the Institute of Noetic Sciences, the International Association of Near-Death Studies, and the Afterlife Research Education Institute, as well as his numerous interviews on Unity Radio, Hay House Radio, Coast to Coast AM, Gaia TV, the Hallmark Channel, Beyond Reality TV, celebrity podcasts and vlogs, and other ABC, CBS, and NBC shows. He is also a beloved speaker at various Unity Centers, Centers for Spiritual Living, Spiritualist Churches, and spiritual centers throughout the country. Currently, Vincent can be heard hosting his own weekly radio show called "Stop Stopping Yourself!" on Unity Online Radio.
Vincent teaches all levels of psychic and mediumship skills, including communicating with animals. All participants, from those with no experience to professional practitioners, have gained profound and remarkable skill improvement from his unique techniques and teaching talent.
Vincent has been asked to psychically communicate with animals to obtain healing messages for animals and their owners experiencing physical and emotional issues. A renowned UK television network and an Australian TV network have featured Vincent's work with animals on their popular television shows. Other interesting animal work includes communicating with a US Marine Corp war dog whose handler died in Afghanistan, an enlightening psychic connection with Koko (the famous sign language communicating gorilla), and a non-diagnosable ailing pet donkey.
Everyone who experiences a Vincent Genna event goes home enlightened, energized, and empowered—emotionally prepared to unlock and release their passions and purposes, and possessing the key to achieving their life goals and fulfilling their dreams.
Contact Information:
vincentgenna.com
believe@vincentgenna.com
https://www.facebook.com/VincentGennaMSW/
919-656-0574
Vincent's Upcoming Workshop, Intensive and Cruise
Workshop: On Dec. 7, Vincent will offer a half-day experiential workshop on trance channeling in Raleigh. You can register at his Dec. 5 SFF talk or on his website: https://vincentgenna.com/events/trance/. This workshop is limited to 50 attendees and is filling up fast!
Three-Day Intensive: On Dec. 27-29, Vincent will offer a three-day intensive called "Stop Stopping Yourself and Become Unstoppable!" at Kripalu Center for Yoga and Health in Stockbridge, MA.  For full details and to register: https://kripalu.org/presenters-programs/stop-stopping-yourself-and-become-unstoppable.
Spiritual Cruise: He will also be a featured speaker on a Science of Mind and Unity spiritual cruise to the Caribbean the week of Jan. 5-12, 2020 along with several luminaries and spiritual leaders. For full details and to reserve a cabin: https://vincentgenna.com/events/spirit-at-sea/.
---
Angel Door Prize – FREE

Vincent has generously donated five of his CDs to be given out as five free door prizes:
1: Life Is a Hallmark Moment (Value $17)
2: Stop Stopping Yourself (Value $17)
3: God and Your Ego Are One! (Value $17)
4: God, It's Not Working! (Value $17)
5. 7 Journeys for Your Soul: Guided Meditations 3-CD set (Value $26)
Note: These CDs will also be for sale at the lecture at a reduced price of $10 and $20, respectively.
Raffle Prize – $5
One-hour Soul to Soul reading by Vincent Genna, MSW ($150 value)
---
FREE Early Meditation, 6:30–7 pm

"Journey to Your Soul" by Vincent Genna, MSW
Arrive Early – There is no admittance after 6:30 pm once the meditation begins.
Location: The Early Meditation will be held on the first floor in the Fellowship Hall where the refreshments are served during the break. Once you enter the front door, there will be signs to direct you.
During this  meditation, Vincent Genna will guide you on an inner journey to meet and talk with your soul. If you have already experienced your soul, you can reconnect during this meditation. Vincent will lead the group to a higher state of consciousness where the soul resides, and you will have a chance to receive a direct message from your soul. This type of guided journey is sometimes called a reverie, which in this case means an experience where you gain some wisdom or have a revelation.
---
Refreshments – FREE
We serve light finger foods and water at intermission. To sponsor our refreshments in exchange for publicity for your practice or business, contact chairman@spiritual-frontiers.com.
Artesian Spring Water from Tom Hildebrand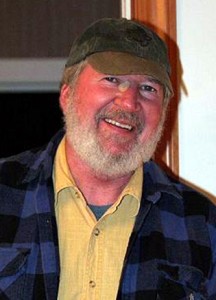 Each month we serve delicious artesian spring water from Tom Hildebrand, which comes from his home near Siler City, close to the geographical center of North Carolina. This is wonderful water, and you can find details on how to purchase this water at HappyHillSpringWater.com.
---